Duck Hunting in Missouri Articles, Duck Hunting Recipes & Duck Hunting Tips & Tricks
We are delighted to share with you informative "news" style articles about the latest not only in Missouri duck hunting, but all news related to our wonderful sport of duck hunting. We will also publish tips for all levels of hunters as well as product reviews on the latest gear and even recipes for those of you that think you are the next Bobby Flay. In other words, we hope to have something for everyone that browses through our website.
When the Missouri duck hunting season starts, we will be posting videos and pictures on our social media pages so you can see the action we see here in Missouri. If you are a regular follower, we know it will only be a matter of time before you are standing ankle-deep in the mud right next to us waiting for the morning or afternoon duck flight. Enjoy the site and good luck bagging your limit!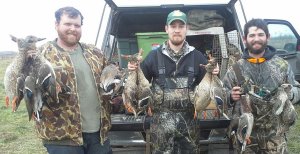 Every duck hunter wants to find the ideal location to plan his or her next trip.
You need a place where the birds will fly over for a prolonged period of time as well as different settings to promote a variety of waterfowl coming to the area.
Furthermore, if you so choose, it is nice to have access to guided duck hunting trips with some of the most talented and experienced hunters in the business. Anyone that has ever hunted waterfowl in Missouri knows that this area gives you all of this and more!
Variety Makes Every Missouri Duck Hunting Trip Unique
Some hunters have preferred settings and some like to mix it up throughout the season. Missouri can settle any appetite that there is. Pit blinds, boat hunting on a river, and rice field hunting are all very popular in Missouri. In fact, some private duck clubs like the Golden Triangle Duck Hunting Club offer all of these settings to its hunters. Pick a setting early on in the season and then change it up in spring for something unique and different. If you have never hunted before, you have the luxury of being able to test all of these setting to see which ones you actually prefer.
Even Novice Hunters Can Max Out Their Bag Limit
You may think you are a great hunter, but how many times have you actually bagged your full possession limit for the season? Actually, how many times you have bagged your limit for a single day? Regardless of how long you have been hunting, you can probably benefit from some expert tips during a guided duck hunting trip. You can pick up some training tips for your pup or ever learn how to improve your calling skills from some of the top competitive callers in the area. Whatever your weakness, the guides can help improve your skills and enhance your chances of having the Missouri duck hunting trip of a lifetime.
Ducks, Ducks, and More Ducks
You can have the best dogs, the best decoys, be the best caller, and have the best shotgun, but if you don't have anything to shoot at, it is pretty hard to have a successful trip. The Mississippi flyway happens to be one of the most popular migratory tracks for waterfowl every season. Luckily, Missouri is located right in this flyway. What does this mean for you? Literally, hundreds of thousands of waterfowl pass through this area every season. Because of the variety and plentiful feeding grounds, the waterfowl stay in the area during the winter and have no need to travel any further south. In other words, Missouri is to migrating ducks what Florida is to retirees!
Every season, we see hunters leave the area with huge smiles because they have had the best trips of their careers. With expanding rice fields, cheap hunting fees, and more interest from novice hunters coming to the area, the popularity of the area by the waterfowl is equaled by the duck hunting community. So, you can choose to join the party or sit home at the end of spring shaking your head because you did not get your limit… AGAIN