Duck Hunting in Missouri Articles, Duck Hunting Recipes & Duck Hunting Tips & Tricks
We are delighted to share with you informative "news" style articles about the latest not only in Missouri duck hunting, but all news related to our wonderful sport of duck hunting. We will also publish tips for all levels of hunters as well as product reviews on the latest gear and even recipes for those of you that think you are the next Bobby Flay. In other words, we hope to have something for everyone that browses through our website.
When the Missouri duck hunting season starts, we will be posting videos and pictures on our social media pages so you can see the action we see here in Missouri. If you are a regular follower, we know it will only be a matter of time before you are standing ankle-deep in the mud right next to us waiting for the morning or afternoon duck flight. Enjoy the site and good luck bagging your limit!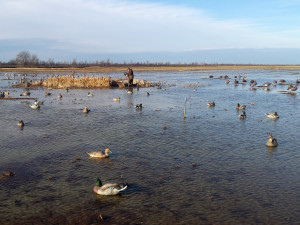 Duck hunting season approaches, so it's officially time to decide where you'll be spending your valuable field time this year. If you're located in or near Missouri, it only stands to reason that you're thinking seriously about Southeast Missouri duck hunting trip as a possibility for your next adventure. But is Southeast Missouri truly the best possible choice for you and your hunting troupe? Let's take a closer look at the benefits of this unique area, the better to help you decide.
A Variety of Species
Southeast Missouri is home to a number of different waterfowl species including but not limited to multiple duck species, white fronted geese, as well as snow geese. This is because Southeast Missouri is a well-known migration bottleneck – a gathering place for a multitude of birds as they make their way from the breeding grounds to their wintering grounds this season. This bottleneck can be reached by following any of the region's major rivers – the Black River, Mississippi River, or St. Francis River.
The area also is home to thousands of backwater areas that hosts a large variety of different waterfowl on a semi-long term basis each and every winter. That said, when you make Southeast Missouri your hunting destination of choice, you're literally choosing to situate yourself right in the middle of the action and potentially take advantage of some of America's most exciting hunting opportunities.
Protected, Well-Preserved Hunting Habitats
These days, hunters are concerned with so much more than just coming home with plenty of bounty at the end of a given trip. They're also becoming more and more concerned with whether or not they're hunting in environmentally responsible, sustainable environments where proper measures are taken to make sure the natural ecosystem is preserved.
The great hunting habitats of Southeast Missouri aren't just among the top wintering waterfowl hunting habitats in the region. They're also among the most environmentally conscious. An influx of recent funds from the state, alongside ongoing assistance from regional conservation organizations, has ensured that these beautiful, bountiful grounds will continue to be everything that they are for many years to come.
Challenging, Varied Hunting Locations to Enjoy
No serious hunter likes a waterfowl experience that is too easy. Southeast Missouri is ultra-desirable to seasoned hunters and adventure seekers alike thanks to the sheer variety of terrain available to interested parties. For instance, if you prefer Southeast Missouri duck hunting experiences that are more challenging, you'll love hunting on land here. This region is well known for limited cover, unique obstacles, and challenging locations that will truly test your skill as a hunter. Water-based hunting will provide additional experiences for hunters that may not be as experienced, but still wish to fully experience the nuances of the area's trademark terrain.
Access to Experienced Guides and Wildlife Experts
Southeast Missouri isn't just considered to be the place to be when it comes to challenging, fruitful duck hunting experiences to remember. It's also populated by highly knowledgeable duck hunting guides and wildlife experts that can help you make sure you get the absolute most out of your entire experience.
Local experts have made an art form out of learning the ideal roosting places and behavioral patterns of all the area's waterfowl. You can count on them to identify, locate, and lead you right to the areas where your hunting experience is sure to be the most rewarding.
In conclusion, those in the know believe that Southeast Missouri duck hunting habitats will be the future of the sport. Challenge, yield, and experience – this location absolutely has it all. Explore the possibilities for yourself today