Duck Hunting in Missouri Articles, Duck Hunting Recipes & Duck Hunting Tips & Tricks
We are delighted to share with you informative "news" style articles about the latest not only in Missouri duck hunting, but all news related to our wonderful sport of duck hunting. We will also publish tips for all levels of hunters as well as product reviews on the latest gear and even recipes for those of you that think you are the next Bobby Flay. In other words, we hope to have something for everyone that browses through our website.
When the Missouri duck hunting season starts, we will be posting videos and pictures on our social media pages so you can see the action we see here in Missouri. If you are a regular follower, we know it will only be a matter of time before you are standing ankle-deep in the mud right next to us waiting for the morning or afternoon duck flight. Enjoy the site and good luck bagging your limit!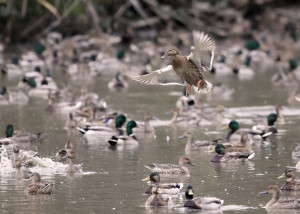 When you go duck hunting in Missouri, you may often be tempted to follow the old adage: "Never mess with a winning strategy!".  But if you've been hunting long enough, you'll soon realize that when it comes to ducks, especially older adult birds, the only way you can win is to through them a curve every so often. That's because, these savvy ducks have learned every trick that duck hunting enthusiasts in the Mississippi flyway has thrown at them.
It's time to change your tactics up a bit to get ahead of your quarry!
Decoys of a feather!
Remember the old saying: "Birds of a feather flock together!" Well successful duck hunting in Missouri is pretty much the same. While you can get by using an old worn-out  hodgepodge of decoys, matching cleaner more realistic decoys with the types of ducks you are hunting will pay big dividends in the end.  Creating an elaborate spread of large Canvass back decoys might not work well in a habitat that's for exclusively puddle ducks. And going duck hunting in Missouri using realistic-looking Mallard decoys in an area that attracts strictly Blue Wing Teal might not be good tactics either.
Scout your hunting area, and then match your decoys accordingly.
Size matters!
Missouri Duck hunting can be pretty dull and uneventful if hunters just use Standard sized twenty year old decoys. While mixing Standards with Magnum sizes is a great idea, remember that the larger decoys are easily spotted by ducks flying overhead, thereby increasing the odds that a flock will see the spread and attempt to decoy not to mention you will need less of the larger duck decoys.
Motion matters…too!
Creating a detailed spread, with lots of decoys of the type of ducks you are hunting, might not work – as you hoped unless you add some life like motion into the equation.  Missouri Duck a hunt using motorized motion decoys is an excellent tactic to create a life-like environment for that passing flock of ducks. Many hunters believe that as long as you have a widely dispersed spread, things should go well. Not always true!
The use of movement during duck hunting trips in Missouri gives waterfowl that additional bit of confidence they need to commit to a decoy spread.
Numbers matter!
Skimping on the number of decoys isn't a smart duck hunting tactic unless it the very end of the season. When it comes to using a realistic-looking spread in the early part of the season, sometimes "more is better!" Using a small decoy spread, of a half dozen or so decoys, might not be enough to catch the eye of a flock passing overhead.  However, using a large number of highly concentrated decoys isn't a good tactic either.
The reason why it's called a "spread" is because that's how ducks like to feed in the warmer part of the season – spread over a field or water body. Success at duck hunting in Missouri will come from imitating the real life habitat – one that has a sizable number of decoys dispersed across the kill zone but leaving open landing pockets.
Mix and match !
Successful duck hunting in Missouri is all about mixing and matching your decoys and tactics to that day's weather and circumstances. Remember, the ducks you are trying to hunt have lived this long because they have adapted. Changing tactics will throw them a curve and to help ensure that your hunt ends in success.