Duck Hunting in Missouri Articles, Duck Hunting Recipes & Duck Hunting Tips & Tricks
We are delighted to share with you informative "news" style articles about the latest not only in Missouri duck hunting, but all news related to our wonderful sport of duck hunting. We will also publish tips for all levels of hunters as well as product reviews on the latest gear and even recipes for those of you that think you are the next Bobby Flay. In other words, we hope to have something for everyone that browses through our website.
When the Missouri duck hunting season starts, we will be posting videos and pictures on our social media pages so you can see the action we see here in Missouri. If you are a regular follower, we know it will only be a matter of time before you are standing ankle-deep in the mud right next to us waiting for the morning or afternoon duck flight. Enjoy the site and good luck bagging your limit!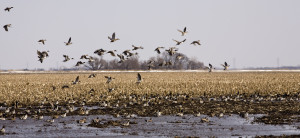 Duck hunters have plenty of options when looking to fill their season quota. However, hunting can be an expensive proposition when you figure in equipment, travel, lodging, and your miscellaneous costs. There are a few other things to consider as well, such as permits, length of the season, and the varieties of waterfowl that can be hunted. We are going to let you in on a little secret…Missouri is among the leaders in all of these categories!
Reason #1 to go Duck Hunting in Missouri – Permit Costs
Missouri permit and stamp costs are among the lowest in the country, especially for residents of Missouri. To hunt in Missouri, you will need three permits and/or stamps (four if you hunt during from Feb 1 through April 30).
Missouri Small Game Permit: The small game permit is required of all Missouri residents from the age of 16 to 64 and all non-residents over the age of 16. Residents can buy an annual permit for only $10 and non-residents can purchase the permit for $80 from a permit vendor. Daily permits are also available for non-residents at a cost of $11. There is an exemption for homeowners hunting their own grounds, but they will still need a Migratory Bird Hunting Permit and Duck Stamp.
Missouri Migratory Bird Hunting Permit: All hunters over the age of 16 must have this permit. This permit is available from permit vendors for $6. Purchasing this permit also meets Migratory Game Bird Harvest Registration requirements.
Federal Migratory Bird Hunting and Conservation Stamp: This stamp must be secured for all hunters over the age of 16. This stamp is NOT available at permit vendors, but at some U.S. Post Office locations, visitor's centers, nature centers, and MDC regional offices at a price of $15. There is also an e-stamp available for $17.50, which can be purchased at permit vendors or by using the MDC website (https://www.mo.wildlifelicense.com/start.php).
Light-Goose Conservation Order Permit (from Feb. 1 – April 10):  This permit is required of all residents and non-residents over the age of 16 hunting Snow, Blue, and Ross's geese during the prescribed period. The cost of this permit is $5 for residents and $40 for non-residents. If you are a resident of Missouri and already have a Resident Lifetime Conservation Partner Permit or a Resident Lifetime Small Game Hunting Permit, purchase of this permit is not required.
Reason #2 to go Duck Hunting in Missouri – Seasons
Missouri offers a significant period for waterfowl hunters to enjoy. For instance, duck hunting has three zones offering different seasons in 2014:
October 25 through December 23 (North Zone), November 1 through December 30 (Middle Zone), and November 27 through January 25 (South Zone).
Goose hunters will have four total seasons in 2014 for a variety of waterfowl:
Brant Geese: October 4 through October 12 and November 27 through January 31.
Canadian Geese: October 4 through October 12 and November 27 through January 31.
White-fronted Geese: November 27 through January 31.
Light Geese: October 25 through January 31.
Light Geese Conservation Order: February 1 through April 30.
Reason #3 to go Duck Hunting in Missouri – Fuel Costs
Duck hunters are generally faced with two different types of fuel costs: boat and automobile. If you are coming from a different state, you will still be paying the high prices of fuel in your home state, but you can load up once you are in town and save significant money for the trip back home. The second cost, boat fuel, is another reason to visit Missouri during duck hunting season. For instance, the average cost of fuel in Missouri as of this writing is just over $3 per gallon, whereas as some states are already over $3.50 per gallon! If you have that boat out on the water all day, every day, you can see how quickly these costs will add up.
Reason #4 to go Duck Hunting in Missouri – Better Variety of Waterfowl
Have you ever been frustrated by the lack of variety when hunting in different areas of the country for waterfowl? This is an area where Missouri is second to none! In our beautiful state, you can hunt Canadian Geese, Puddle Ducks, Divers on the rivers, Speckebelly Geese, Fall and Spring Snow Geese. This offers even the fussiest of hunters enough entertainment and excuses to get out there several times throughout the year.
Reason #5 to go Duck Hunting in Missouri – Guided Duck Hunting
This is a huge benefit for hunters that are new to the area. ShowMeSnowGeese.com offers a variety of guided duck hunting experiences as well as non-guided options for hunters more experienced with the area. The longer you stay, the less you pay! In addition, there are discounts for paying for the full trip ahead of time. In addition to the pricing benefits, you will also save money on equipment and transportation by using a guided duck hunting company.
We have given you five reasons, but there are plenty more reasons to visit Missouri during duck hunting season. Don't believe us? Give it a try for one season and we promise, you will never want to hunt anywhere else again!