Duck Hunting in Missouri Articles, Duck Hunting Recipes & Duck Hunting Tips & Tricks
We are delighted to share with you informative "news" style articles about the latest not only in Missouri duck hunting, but all news related to our wonderful sport of duck hunting. We will also publish tips for all levels of hunters as well as product reviews on the latest gear and even recipes for those of you that think you are the next Bobby Flay. In other words, we hope to have something for everyone that browses through our website.
When the Missouri duck hunting season starts, we will be posting videos and pictures on our social media pages so you can see the action we see here in Missouri. If you are a regular follower, we know it will only be a matter of time before you are standing ankle-deep in the mud right next to us waiting for the morning or afternoon duck flight. Enjoy the site and good luck bagging your limit!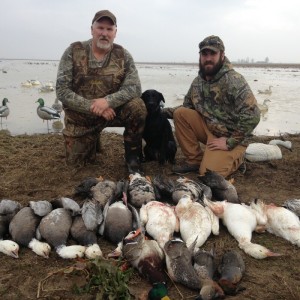 No one's doubting your successful duck hunting trips of seasons past—whether you've been hunting waterfowl 20 years or the 20 days since you got your hunting license, you and those lucky enough to be tolling next to you have had hunts that had bragging all the way to next season.   However, let's not be coy: we've all had those hunting trips or heard about them that left you or the other guy empty-handed and ready to kick decoys until they were nothing but painted plastic—and that's okay because everyone has those trips. So, to help make the next trip more successful, here is a bit of advice from a hunting guide with some tips to help you get the most out of your hunt and some birds on your game strap to show for it.
Quick Concealment
On the off-chance you forgot your camo face paint, one quick thing to hide shine from your hands and face (even inside a duck blind) is charcoal from a wine cork. All you have to do is burn the wine cork's end with a lighter until you have a good charcoal tip. Once cooled, rub the charred tip on your skin, and to remove use a wet rag—one huge perk is charcoal washes off more easily than paint. For storing, use a zip-lock bag to keep in your blind bag for later access (just burn the tip again to repeat).
Use Unconventional Decoy Strategies
Ducks can learn quickly to spot traditional decoy spreads and go decoy shy. It's about that time to get creative with spreads on your duck hunting trips, and these are some ways to get started. For one, you can set a long-shot all goose spread, since ducks like goose spreads (this way, you're inviting geese and ducks). Set 50 goose floaters tightly against the shoreline, setting another 50 50 yards beyond the shoreline, leaving 20 yards between flocks and offering a landing zone to ducks flying over. You can also go big in an open field—mixing up mallard drake and black duck decoys, 100 yards each direction from your blind but only 15 yards from the shoreline, mallards pop in the sun and black ducks stand out on muddy water—far more likely to spot and bring ducks into your field.
You can build a spread "brick-by-brick" for fast-flowing waters and when ducks land in open channels before swimming flooded woods. This "brick rig" involves three groups of three decoys, each set on 40-foot sections of heavy trotline anchored by a brick. Tie three loops around four feet apart in the middle of each trotline section and clip a decoy rigged on a 20-foot Tangle-free decoy cord section to each loop—because no one wants to spend their duck hunting vacation chasing decoys down.
Shot Size Selection
To strike balance between pattern density and pellet energy, you need the right shot size—enough energy to ensure multiple hits on vital organs. The smallest shot has adequate energy for a clean kill depending on distance—it also means more pellets in your pattern and a better chance at a fatal shot. At the same time, bigger pellets mean more energy—good for windy days and birds flaring or slipping off—and more sense for tighter chokes. And finally, the best tip for your next duck hunting trips is to hit the patterning board for shot sizes—look for 90 to 140 hits in a 30-inch circle at the range you plan to shoot. Patterning not only helps find the best load but also makes you a better shot.