Duck Hunting in Missouri Articles, Duck Hunting Recipes & Duck Hunting Tips & Tricks
We are delighted to share with you informative "news" style articles about the latest not only in Missouri duck hunting, but all news related to our wonderful sport of duck hunting. We will also publish tips for all levels of hunters as well as product reviews on the latest gear and even recipes for those of you that think you are the next Bobby Flay. In other words, we hope to have something for everyone that browses through our website.
When the Missouri duck hunting season starts, we will be posting videos and pictures on our social media pages so you can see the action we see here in Missouri. If you are a regular follower, we know it will only be a matter of time before you are standing ankle-deep in the mud right next to us waiting for the morning or afternoon duck flight. Enjoy the site and good luck bagging your limit!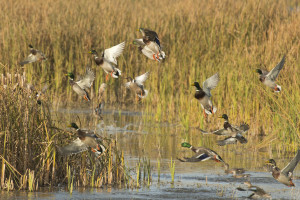 Big is not always better, especially when it comes to duck hunting. When duck season opens, many of the large hot spots are absolutely packed with hunters. If you do not get there early enough, you are pretty much out of luck. Another problem is that eventually, the waterfowl wise up and avoid these areas as the season progresses. So where do they go?
We have said many times over how intelligent these birds are. They scout the areas before they land to feed and once they sense danger, they will leave and find another area to feed. For some reason, many hunters assume the birds need large fields or bodies of water to feed. While this may be preferred, the birds will also look for smaller out of the way areas, when available, that are safer.
Learn the Habits of the Ducks
If you learn how the ducks act in the local area, you should be able to reap a full bounty by staking out local ponds and small water areas. The typical mallard will feed early in the day and then relocate to a different area until it is hungry again. In many cases, these "resting" spots are local ponds or small water areas that are off the beaten path.
The second scenario is something we touched on above, to avoid the pressure of larger, better-known hunting grounds. If you have an area such as this close by, start investigating the areas around the popular hunting areas and waterways, without your guns. Your first couple of times out are strictly information gathering, as you want to see where they are resting throughout the day. Once you have their schedule figured out, then it is time to set up shop.
Adjusting Your Hunting Strategy and Techniques to Small Water and Pond Settings
Hunting small bodies of water will require a different approach than the larger areas and waterways. As mentioned above, the birds will more than likely have ample choices, so you need to do your recon to find out where they are going, but also to understand the terrain and conditions you will be dealing with. In many cases, out of the way locations such as this may take more time and effort to reach.
• When creating a blind, standard rules apply, as you want to create a blind that matches the terrain as much as possible. Because you may be in a more enclosed area than normal, you may actually have to clear the area around you to ensure you do not get caught up in any bush or tree branches when you get up to fire. At the same time, you cannot change the surroundings too much or you may alert the birds to your presence.
If you plan to hunt the same area throughout the season, it might be a good idea to scout these locations prior and set up multiple blinds before you ever fire your first shot. Obviously, if the areas are more populated, this will not work, but on private grounds, you can be set and ready to go in multiple spots throughout the season.
• Because these areas are smaller and do not have as much of an area for the birds to land, you will not need nearly as many decoys as you would in a field or larger body of water. In fact, in some areas, you may only need a couple of decoys so there is enough space for more birds to land. Know the exact types of ducks that are coming to the area and their behavior once they get there so you can mimic it in your spreads to make it look as realistic as possible.
  • Calling is something you may want to put on the backburner when hunting these smaller areas. Common sense says the birds are trying to hide, so why would they make a lot of noise themselves when arriving or resting. Making loud calls could be a risky move that does nothing more than arise their suspicion and chase them off.
 • When you are duck hunting these areas, you are going to be hunting much later in the day than traditional times. Remember, the birds are going to feed in the main areas then come to rest here. You will not see them until mid to late morning and then possibly not until after noon.
• You are not going to have many opportunities because of the limited amount of birds, so take the shot when you have it. This may take some prep work in finding the proper area to fire your shots around your blind. When you see the shot, take it; just know your abilities and your shooting range.