Duck Hunting in Missouri Articles, Duck Hunting Recipes & Duck Hunting Tips & Tricks
We are delighted to share with you informative "news" style articles about the latest not only in Missouri duck hunting, but all news related to our wonderful sport of duck hunting. We will also publish tips for all levels of hunters as well as product reviews on the latest gear and even recipes for those of you that think you are the next Bobby Flay. In other words, we hope to have something for everyone that browses through our website.
When the Missouri duck hunting season starts, we will be posting videos and pictures on our social media pages so you can see the action we see here in Missouri. If you are a regular follower, we know it will only be a matter of time before you are standing ankle-deep in the mud right next to us waiting for the morning or afternoon duck flight. Enjoy the site and good luck bagging your limit!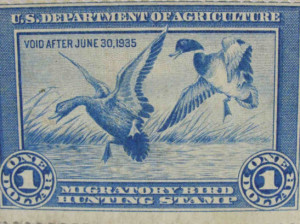 The Federal Duck Stamp, formally known as the Migratory Bird Hunting and Conservation Stamp, is an adhesive stamp required by the United States federal government to hunt migratory waterfowl such as ducks and geese. It is also used to gain entrance to National Wildlife Refuges that normally charge for admission.
President Herbert Hoover signed the Migratory Bird Conservation Act in 1929 to authorize the acquisition and preservation of wetlands as waterfowl habitat. The law, however, did not provide a permanent source of money to buy and preserve the wetlands. On March 16, 1934, Congress passed, and President Roosevelt signed, the Migratory Bird Hunting Stamp Act, popularly known as the Duck Stamp Act.
The first duck stamp was sold in 1934 for $1, since then the Federal duck stamp price has increased many times.   In August 1949, Congress raised the price of the stamp to $2 to offset rising costs encountered by the U.S. Fish and Wildlife Services in its work to expand waterfowl conservation. In October 1951, Congress authorized an increase in expenditure of Duck Stamp funds for enforcement and administration from 10 percent to 15 percent of annual receipts
The price of the stamp to $3, effective July 1, 1959, and earmarked the proceeds, less the actual expenses connected with the sale of the stamps by the Post Office Department for the acquisition of migratory bird refuges and "waterfowl production areas", effective July, 1960.
In March 1972, the cost of the Duck Stamp was raised to $5, beginning the 1972-73 season. For the 1979-80 season, the price was raised to $7.50.  For the 1987-88 season, the price was raised to $10.00.  The price went up to $12.50 with the 1989-90 season.
The last was increased was in 1991 increase from $12.50 to $15. With the signing of the Migratory Bird Hunting and Conservation Stamp Act (Federal Duck Stamp Act) of 2014. The White House announced Dec. 19 that President Barack Obama signed legislation on Dec. 18 mandating that the federal duck stamp will increase by a whopping $10 next year — to $25 in 2015 currently some 1.5 million stamps are sold each year.
Christopher "Kip" Koss, the late grandson of the stamp's creator, J.N. "Ding" Darling, argued that sales statistics produced by the government understated their impact. "Adjusted to 2011 dollars, duck stamp sales from 1934 through 2008 actually total $2,373,563,219, or over 2 billion dollars," he wrote.
He warned that using inflation-adjusted dollars might be critical to "the continuation of the federal duck stamp program."
To select each year's design, the U.S. Fish and Wildlife Service conducts an annual contest, open to all interested artists, for the next year's Duck Stamp. Details of the contest are announced in mid-summer, and all entries must be postmarked no later than October 15. Rules for the contest are available from Public Affairs, U.S. Fish and Wildlife Service, Washington, D.C. 20240.
Artists have wide latitude in the choice of medium-pen and ink, oil, watercolor, etching pencil. Designs may be in black and white or full color, but they must be seven inches wide and five inches high.
Winners receive no compensation except an album containing a sheet of their stamps. However, many contest winners have capitalized on their designs by selling autographed prints.