Duck Hunting in Missouri Articles, Duck Hunting Recipes & Duck Hunting Tips & Tricks
We are delighted to share with you informative "news" style articles about the latest not only in Missouri duck hunting, but all news related to our wonderful sport of duck hunting. We will also publish tips for all levels of hunters as well as product reviews on the latest gear and even recipes for those of you that think you are the next Bobby Flay. In other words, we hope to have something for everyone that browses through our website.
When the Missouri duck hunting season starts, we will be posting videos and pictures on our social media pages so you can see the action we see here in Missouri. If you are a regular follower, we know it will only be a matter of time before you are standing ankle-deep in the mud right next to us waiting for the morning or afternoon duck flight. Enjoy the site and good luck bagging your limit!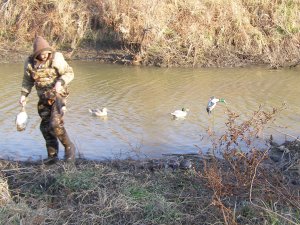 As many a seasoned hunter will testify, Waterfowl are a crafty species to bag, and hunters need to use all the duck hunting tips and tricks they can muster to hunt them.
Ducks depend on instinct to survive, and over multiple generations they hone those instincts, and perfect the art of survival with every passing season. And as new broods are raised, parents pass down those survival tips and tricks to their young ones.
It's only fair therefore that veteran waterfowl hunters pass on their duck hunting tricks to a new generation of duck hunters.
Here are a few tricks that might come in handy the next time you find yourself wondering why you aren't having luck bagging your limit:
A is for Ammo:
Your choice of shotgun ammo will play a vital part in how successful you are in your harvest. Novice hunters may think making a "big bang" is the best way to shoot "something". Well, one of the duck hunting tips that veterans of the sport can share with you is that bigger does not always equate to Better!
Shell selection does need to be taken into consideration several factors, including:
- Will you be decoying or pass shooting?
- The type of bird that you are hunting?
Sure, Hevi Shot, Remington Hyper Sonic or other super magnum shells may provide you that extra bit of "range" or "speed "that you need, but when you use smart calling strategies, decoy geese and ducks or hunting the early season for geese and smaller ducks, super magnum shot might be an overkill. Quite often, using a standard 1 1/4 ounce load that has a shot size between ranges of BB to #3 is sufficient for most duck and geese hunts. Plus they'll save you money compared to the "super ammo".
B is for Blinds:
The objective of building blinds is to ensure that the birds are unaware of your presence. And one of the best duck hunting tricks anyone will give you is to create blinds that blend in with your surrounding terrain. If you are hunting in a reservoir surrounded by dead timber, building blinds built of corn stalks would be a dead giveaway " match your surroundings "
C is for Camouflage:
This little nugget is related to B above, and suggests ways to conceal yourself from your prey. Remember, ducks have an aerial view of your surroundings. If you wear the same camouflage patterns that you do to hunt deer for example, the birds can spot you and immediately do a fly-by. Take care to conceal your head, face and your hands too, because they could easily be a giveaway if they don't blend in with the surrounding.
Break up your outline whether you are hunting from a boat, layout blind or even a pit you need to remember there are no straight edges in nature. Use the vegetation from the surrounding area to conceal your blind and reduce and unnatural outline your blind might have.
Following these simple duck hunting tips and tricks will ensure that you not only enjoy your duck hunting experience, but that you also bag a few in the process. But like every sport, duck hunting is an adaptive sport. The more you hunt, the more you'll adapt these tips and tricks to your own hunting style and preferences.