Duck Hunting in Missouri Articles, Duck Hunting Recipes & Duck Hunting Tips & Tricks
We are delighted to share with you informative "news" style articles about the latest not only in Missouri duck hunting, but all news related to our wonderful sport of duck hunting. We will also publish tips for all levels of hunters as well as product reviews on the latest gear and even recipes for those of you that think you are the next Bobby Flay. In other words, we hope to have something for everyone that browses through our website.
When the Missouri duck hunting season starts, we will be posting videos and pictures on our social media pages so you can see the action we see here in Missouri. If you are a regular follower, we know it will only be a matter of time before you are standing ankle-deep in the mud right next to us waiting for the morning or afternoon duck flight. Enjoy the site and good luck bagging your limit!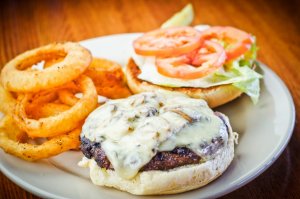 Everyone in the household already knows you a good duck hunter now show them not only you're a hunter but also a great cook this summer.
So everyone is hungry for a burger but rather than going to the local burger joint you want to take it up a notch, after all you're a duck hunter right?
How about trying this duck recipe on the grill!
After duck hunting season there is always a few ducks in the freezer, so lets break out the meat grinder and make a tasty duck dinner that even the kids and wife will eat with joy.
Ingredients
1 pound ground duck
¼ pound ground pork
1-2 teaspoons Chile powder
1 tablespoon kosher salt
8 Hamburger buns (If you wish to make it look fancy try using Kaiser Roll buns)
8 cheese slices (I like thick sliced Baby Swiss)
Pickled onions or sliced sweet pickles
Ketchup or your favorite BBQ sauce
I mix pork fat with my ground duck because it is neutral tasting and has the perfect melting point. Duck fat is too unsaturated and beef tallow is too saturated. For every four pounds of duck meat, I add 1 pound of pork fat, which is easily available at the meat counter of your local supermarket just ask!
Directions
1. Sprinkle the chile powder and salt over the ground duck and mix well with your clean hands. Form into patties the size of your buns or use a burger press for uniformly sized burgers.
2. Grill your Duck burgers until they are the doneness you want; I recommend at least medium, which should take 5-7 minutes per side on medium-high heat with an internal tempter of 165 degrees.
3. You can toast the buns and melt the cheese if you want, and dress the duck burgers however you like. If you like you can toasted buns add a few slices of Baby Swiss cheese then top with pickles and onions with a smidgeon of your favorite BBQ sauce?
Serve you duck burgers with corn on the cob , French fries or even onion rings and enjoy the meal that you got while duck hunting with everyone. I am sure not only with kids will love this duck recipe but so will mama. Always remember, clean up everything after the meal also helps smooth thing over when you're heading out on that next duck hunting trip!