Duck Hunting in Missouri Articles, Duck Hunting Recipes & Duck Hunting Tips & Tricks
We are delighted to share with you informative "news" style articles about the latest not only in Missouri duck hunting, but all news related to our wonderful sport of duck hunting. We will also publish tips for all levels of hunters as well as product reviews on the latest gear and even recipes for those of you that think you are the next Bobby Flay. In other words, we hope to have something for everyone that browses through our website.
When the Missouri duck hunting season starts, we will be posting videos and pictures on our social media pages so you can see the action we see here in Missouri. If you are a regular follower, we know it will only be a matter of time before you are standing ankle-deep in the mud right next to us waiting for the morning or afternoon duck flight. Enjoy the site and good luck bagging your limit!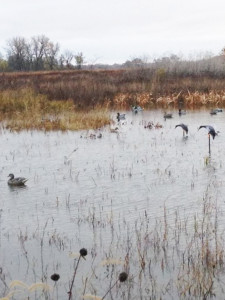 Duck Hunters love their gadgets. We all want the latest chokes for our shotgun, the hottest model of shotgun, a blind that could serve as a vacation home, and of course, the coolest decoys to lure in the birds. One of the must have decoys every hunter should have for the upcoming season is a motion decoy. When you are duck hunting in Missouri, using these decoys to attract the younger birds is like offering an ice cream cone up to your child on a hot summer day.
What are Motion Decoys?
Birds are very intelligent creatures, which is why it take time and experience to learn how to set out a proper decoy spread. I have seen first timers put out a spread and have simply shaken my head. The birds come, check it out, and simply fly away. Motion decoys give even the newest of duck hunters the ability to use moving decoys to generate a more realistic look to their spread.
Motion decoys simulate the actual movements of the birds in their natural settings. You can choose from decoys that will simulate a birds activities while on the water as well as spinning wing decoys that simulate ducks coming in for a landing. This movement seems more natural to the ducks and brings them in for a closer look.
Why are Motion Decoys Effective?
Any living being is going to be attracted by movement. Your eyes are automatically drawn to something that is moving quickly in one direction or the other. Think about it, how many times have you passed by a restaurant or store with a lot of people moving around inside and checked it out just to see why everyone else was there? If birds see a lot of other birds landing and moving around on the water, they probably assume it is a loaded feeding zone and want an invite to dinner!
The motion decoys are also very good at drawing in birds from longer distances. As the hunter, it gives you a closer, cleaner shot at the birds. You are able to draw them in much closer so even newbie's will have a hard time making an excuse for not bagging their birds.
Other Types of Motion Decoys
A decoy does not necessarily have to be motorized to be considered a motion decoy. If you do not have the budget for motorized decoys, you may consider spinners and jerk cords for regular decoys. Spinners serve much the same purpose as a motorized spinning wing decoy. When the wind blows, the "wings" start to move simulating a duck coming in for a landing. Some old timers actually prefer to use these because the constant spinning of motorized decoy wings can sometimes spook the birds if they get too close to them.
Jerk cords are also very effective at drawing the attention of approaching birds. Tying the decoys together with a trailing cord that you control in your blind will help "move" the decoys over the water. From above, the ducks may think some of their friends are just chilling out on the pond. Little do they know, you are lying in wait to catch your limit!
Operating and deploying decoys does take some knowledge, so if you plan to go duck hunting in Missouri this season, consider using a guided duck hunting company like Show Me Snow Geese. Our hunting guides are some of the best in the business at setting and using a wide variety of decoys. By the end of your trip, you should be more than ready to set out on your own!