Duck Hunting in Missouri Articles, Duck Hunting Recipes & Duck Hunting Tips & Tricks
We are delighted to share with you informative "news" style articles about the latest not only in Missouri duck hunting, but all news related to our wonderful sport of duck hunting. We will also publish tips for all levels of hunters as well as product reviews on the latest gear and even recipes for those of you that think you are the next Bobby Flay. In other words, we hope to have something for everyone that browses through our website.
When the Missouri duck hunting season starts, we will be posting videos and pictures on our social media pages so you can see the action we see here in Missouri. If you are a regular follower, we know it will only be a matter of time before you are standing ankle-deep in the mud right next to us waiting for the morning or afternoon duck flight. Enjoy the site and good luck bagging your limit!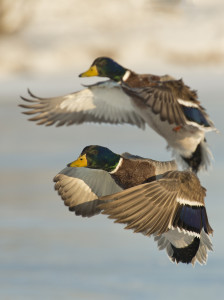 November is approaching and if this year is anything like last year,  mallard duck hunting will once again reign supreme. By Thanksgiving week of 2013, there were over 300,000 ducks in the area. While these numbers were above the average for this time of year, there is no reason to think that this season will offer anything less promising.
Will the Weather Affect Migration?
In many areas, the summer this year was very uncharacteristic. Several parts of the country had much cooler temperatures than the norm, with the dog days of summer never really materializing. However, the repercussions where that some of the more northern states have already seen snowfall this year! If the pattern holds true, we could be seeing an early migration of the mallards, surpassing peak numbers of well over a quarter of a million ducks in the area again.
Hotspots for Mallard Duck Hunting
The Mississippi Flyway has and will continue to be one of the most promising hunting grounds for duck hunting. With a mix of terrain, Missouri is often one of the more popular destinations for hunters. The state wildlife organizations as well as local duck hunting clubs play a significant role in the areas success.
For the state's part, it limits the number of hunters allowed to access state hunting grounds on a daily basis. It also limits the actual areas where hunters are allowed to go. Local waterfowl hunting clubs and guides use the same approach in limiting the hunters booked for any one trip. This keeps the hunters numbers in check and allows those hunting on any given day a rich amount of targets.
What is it about the Mississippi Flyway?
As you probably already know, birds fly south for the winter. Depending upon where they are at in the summer dictates the path they will mostly likely take to warmer grounds in the winter. The Mississippi Flyway is the route birds migrating from as far away as the Arctic Ocean that are headed as far south as Patagonia will take. The route is preferred because it presents little in the way of challenging terrain for the birds to navigate.
The route itself travels along the Mackenzie River (Canada) and Mississippi River (United States). With the route narrowing over Louisiana, Mississippi, Arkansas  and Missouri, these states in particular offer an abundance of birds for duck hunters. It is estimated that 40 percent or more of the birds migrating south every year will pass over these areas.
Best Conditions for Mallard Hunting in Missouri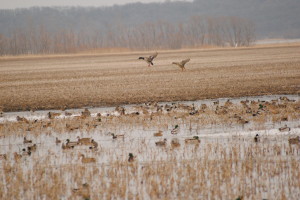 Knowing the ducks feeding habits is critical to ensuring  productive duck hunting. Mallards love to feed on things such as tubers, seeds, and all those little invertebrates on shallow river bottoms. This means the rice and flooded corn fields of Missouri are one of the more popular choices for duck hunters to choose during a trip. The task for you is in finding the right fields to set up shop in.
There is a considerable amount of public lands with perfect conditions, but the challenge in using these areas is that it is up to the luck of the draw at best. The state only allows so many hunters per spot, so you are really taking a risk in regard to even being able to get out that day, let alone the best spot on a given day. However, for those needing handicap accessible blinds, the state does have at least one accessible blind in most of its hunting areas.
The alternative is to use a guided duck hunting company, such as Show Me Snow Geese. SMSG owns and operates various hunting grounds across the state with idea set-ups. Blinds are already in place as well as providing dogs and decoys. The grounds are also maintained and flooded to ensure that a veritable feast awaits the mallards and migrating waterfowl  as they migrate through the Mississippi Flyway.
Learning from Guided Duck Hunting
As a new, or even a veteran hunter for that matter, you always want to learn from more experienced hunters. If you are new to the sport or have struggled in the past in finding the right types of hunting areas, proper decoy spreads, or difficulty in calling, a Missouri guided duck hunting trip can be very beneficial. You will be hunting on proven duck hunting grounds with professional waterfowl  hunters that are literally experts in decoy spreads and calling. In addition, you can pick up a few tips on how a dog should perform during an actual hunt, which can help you zero in on training for your pup.
A successful duck hunting trip all comes down to location, equipment, timing, and ability. The Mississippi Flyway takes care of the location, but the rest is in your hands. If you are heading to Missouri to duck hunt this year, where the Mallard is King, give us a call at Show Me Snow Geese.com  so we can make sure it is the best and most productive hunting trip you have ever had!