Duck Hunting in Missouri Articles, Duck Hunting Recipes & Duck Hunting Tips & Tricks
We are delighted to share with you informative "news" style articles about the latest not only in Missouri duck hunting, but all news related to our wonderful sport of duck hunting. We will also publish tips for all levels of hunters as well as product reviews on the latest gear and even recipes for those of you that think you are the next Bobby Flay. In other words, we hope to have something for everyone that browses through our website.
When the Missouri duck hunting season starts, we will be posting videos and pictures on our social media pages so you can see the action we see here in Missouri. If you are a regular follower, we know it will only be a matter of time before you are standing ankle-deep in the mud right next to us waiting for the morning or afternoon duck flight. Enjoy the site and good luck bagging your limit!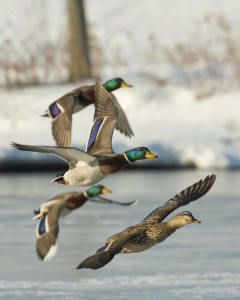 Maybe you are a diehard duck hunter, or maybe you just had a bad season and are trying to squeeze in every last day that you can. It takes a dedicated waterfowl hunter to hunt throughout the entire duck hunting season as well as one that understands how strategies change late in the season. We have put together a list of tips for you to ensure that your late-season duck hunting trips leave your mouth wet in anticipation of next season!
 Duck Calling – new callers will often make the mistake of calling at the wrong time. If the ducks are already flying to you, understand that you do not need to call for them. Only use your call when the ducks have passed or on the edges to draw their attention back to your kill zone. In addition, consider a guided duck hunting trip that offers professional waterfowl guides that have plenty of experience calling so you can learn the proper techniques and timing.
 Find the Water – late season hunting means colder weather and a lot of ice. You can change your hunting areas to bigger bodies of water, like moving rivers, or create your own feeding hole by breaking through some ice and opening up the water. Believe me, if there is open water, the birds will find it!
 Setting Decoys – colder weather means that the birds will stay closer together to conserve heat and energy. Your decoy spreads should reflect this. Keep the formations tight and lower your spread numbers during late season duck hunting.
Cover Up – we are not talking about being warm, that comes later, but in making sure you are using camouflage that is more natural. Conceal yourself with the natural elements near your blind so the ducks cannot see you. When it comes to this time of the year, always go overboard with your camouflage because you are much more exposed to the birds. Remember there are no straight lines in nature.
Take Care of Your Gun – you want to make sure your weapon fires when it is supposed to, so keep it clean and dry. Because of the snow, you may want keep a dry rag handy and consider using a dry lubricant too. Take the time to clean your weapon after every hunt and you should not have any problems when you finally see the birds in your sights.
 Layer Up – temperatures will dramatically change from setup to hunting time, so your wardrobe should reflect this, especially if you are out there breaking and moving the ice. Layer up appropriately so you can shed and add layers as needed throughout the day.
 Patience – you are not going to see as many birds this time of the year, so you need to make sure you remain patient and get them into the kill zone before firing. It is easy to get anxious when you are sitting around for hours and finally see some action. Remember, the birds tend to feed later in the day during the winter, so stay put and your patience will be rewarded.
These hunting tips along with others I referenced in an earlier article Dealing with Missouri Cold Weather Duck Hunting will help you have a successful  late-season waterfowl hunting trip.