Duck Hunting in Missouri Articles, Duck Hunting Recipes & Duck Hunting Tips & Tricks
We are delighted to share with you informative "news" style articles about the latest not only in Missouri duck hunting, but all news related to our wonderful sport of duck hunting. We will also publish tips for all levels of hunters as well as product reviews on the latest gear and even recipes for those of you that think you are the next Bobby Flay. In other words, we hope to have something for everyone that browses through our website.
When the Missouri duck hunting season starts, we will be posting videos and pictures on our social media pages so you can see the action we see here in Missouri. If you are a regular follower, we know it will only be a matter of time before you are standing ankle-deep in the mud right next to us waiting for the morning or afternoon duck flight. Enjoy the site and good luck bagging your limit!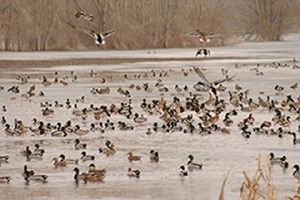 If you're on the lookout for an activity that's both productive and leisurely at the same time, then Missouri duck hunting might be just what you want.  Few other hobbies or sport offer the opportunities like hunting ducks in the Missouri Bootheel does.
Missouri is fortunate to be geographically located in the strategic "Mississippi Flyway," a traditional path that waterfowl has used as a preferred migratory route for ages. And best of all, because of a number of factors, including:
size of the duck population
weather
favorable local habitat conditions
timing of migration
Hunters will have plenty of time and opportunity to indulge in Missouri duck hunting, if they so choose.
The choice of whether hunting ducks is right for you is a personal one. However, when you consider the benefits that this great outdoor sport offers, one could hardly be faulted for choosing it over many other activities.
 Bonding: Missouri duck hunting parties often comprise of friends and family members that have hunted together for years. Such group events offer excellent bonding opportunities, where hunting skills can be shared and passed down from one generation to another, bringing the group closer together.
 Solitude: Even when you are alone, with just a hunting dog for company, duck hunting offers a rate opportunity to enjoy the peace and solitude that the great outdoors bring. In these days of cell phones and inter-connected smart devices, even psychologists and psychiatrists agree that solitude can sometimes offer great therapeutic value.
 Exercise: While some may argue that the indoors is a much better environment to get exercise as opposed to the great outdoors, many will disagree. Duck hunting offers you the opportunity to exercise far more than your muscles, Stealth, Cunning, Patience, Stamina, Strategic techniques, Vision. And Hearing. All of these are put to the test while duck hunting.  That's much more than most indoor activity can offer you.
 Appreciation of Nature: While a Missouri duck hunting trip may primarily be about hunting and shooting ducks, no hunter can remain unmoved by the absolute spectacle that often unfolds in front of them. The vortex of thousands of ducks and waterfowl swarming before you, as they circle and decoy, will forever leave you impressed with nature.
Conservation: The balance of nature lies in life and death. If the population of ducks and other waterfowl is left to grow unchecked, over-population,  disease could affect a multitude of other species.  Since ducks tend to rely on many of the same habitat and foods that other waterfowl do, including fish, rice, corn and plant matter. Duck hunting is therefore, a necessary way to conserve and balance various life forms on the planet, and hunters play an important part in that activity.
Anyone who participates in a Missouri duck hunting trip once is likely to immediately understand and appreciate the benefits it offers. Whether your intention is sport, exercise or simple social interaction, no other activity offers so much to individuals and groups as a well-organized  duck hunt.