Duck Hunting in Missouri Articles, Duck Hunting Recipes & Duck Hunting Tips & Tricks
We are delighted to share with you informative "news" style articles about the latest not only in Missouri duck hunting, but all news related to our wonderful sport of duck hunting. We will also publish tips for all levels of hunters as well as product reviews on the latest gear and even recipes for those of you that think you are the next Bobby Flay. In other words, we hope to have something for everyone that browses through our website.
When the Missouri duck hunting season starts, we will be posting videos and pictures on our social media pages so you can see the action we see here in Missouri. If you are a regular follower, we know it will only be a matter of time before you are standing ankle-deep in the mud right next to us waiting for the morning or afternoon duck flight. Enjoy the site and good luck bagging your limit!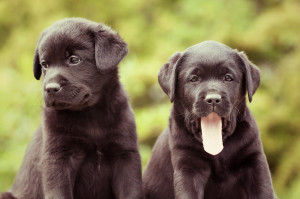 So you call yourself a hunter, right? Then why are you picking out a pup as a family pet first and a waterfowl hunting dog second? Obviously, you want the dog you take home to get along with everyone in the family, but the dog also needs to have hunting pedigree if you are looking to take him out in the field or duck blind with you. So, before the wife and kids fall in love with a Labrador puppy, take the time to find out if this retriever is actually going to be useful when shots are fired and birds are falling out of the sky.
Check the Breeder
Be very careful about puppy mills. Some of these places are just concerned about churning out dogs for profit. This is not to say good professional breeders do not exist, because there are plenty of them out there, but you really need to do your due diligence to ensure you are making your purchase from a reputable breeder.
Check the Breeding
This is important…check out the parents of the pups you are considering to be waterfowl hunting dogs. Ideally, both parents should have hunting in their background, but even one parent is better than none. If both parents were raised strictly as pets, your dog may struggle in the field. On the other hand, if the pup comes from two parents that were avid hunting dogs, you are starting off on the right foot.
Make Several Visits before Bringing in the Family
You are going to need to see this dog over time. For most pups, they will start to develop their personality between weeks five and seven, so schedule multiple visits over these weeks. When you visit, bring a duck wing or dead bird with you to see how interested the puppy is in the bird. If the dog shows little or no interest, find a pup that is curious about it. Then, and only then, bring the family in to meet the possible candidates for your next hunting companion.
Big Isn't Always Best
The runt of the litter is often the last dog taken. But, as a hunter, you may want to check out the smaller dog as long as they show some hunting instincts. Why? The dog will take up less space in the blind or boat, create less challenges getting into and out of a boat on the water, as well as needing to pack less food on a trip ,smaller dogs are easier to conceal when you are out in the field.    One more thing, smaller dogs tend to live a little longer, sometimes bigger isn't better!
Handling the Dog
Have you ever tried to handle an animal or pick one up and they immediately got squirmy? Socialization is often a natural skill for a pup but can also be learned as long as it is addressed early on. You need to make sure the dog is okay being handled and in the presence of people. The last thing you need in a hunting situation is a timid or overly aggressive dog. It is both dangerous for the dog as well as others on your hunt (for instance, the dog gets apprehensive during shooting) and will scare the birds or worst yet knocks over a firearm if he acts out at the wrong time.