Duck Hunting in Missouri Articles, Duck Hunting Recipes & Duck Hunting Tips & Tricks
We are delighted to share with you informative "news" style articles about the latest not only in Missouri duck hunting, but all news related to our wonderful sport of duck hunting. We will also publish tips for all levels of hunters as well as product reviews on the latest gear and even recipes for those of you that think you are the next Bobby Flay. In other words, we hope to have something for everyone that browses through our website.
When the Missouri duck hunting season starts, we will be posting videos and pictures on our social media pages so you can see the action we see here in Missouri. If you are a regular follower, we know it will only be a matter of time before you are standing ankle-deep in the mud right next to us waiting for the morning or afternoon duck flight. Enjoy the site and good luck bagging your limit!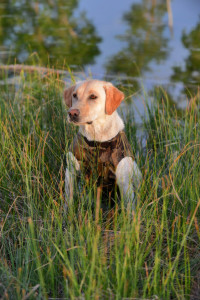 The right duck hunting dog will be a faithful companion, as well as a huge help on hunting excursions. In order to find the perfect canine for this purpose, you'll need to know which traits and variables determine a duck hunting dog's overall suitability. When you do know what to look for, you'll be able to select a pet that is loyal, well-behaved and able to assist you as you hunt waterfowl in the marshes and woodlands.
To help you discover the traits and qualities of the best duck hunting dogs, we've created a comprehensive guideline. Perfect for first-time owners, our guide is packed with expert advice.
Once you've read our guide, you'll be prepped to pick and train the right hunting retriever…
You'll Have Plenty of Choices
Our goal is to help you narrow things down, since duck hunting retrievers are available in a variety of shapes and sizes. The first thing to think about is what you want from your duck hunting dog. After all, dogs of this type have different temperaments and their trainability varies, depending on breed.
So, do make a point of considering your lifestyle, as well as your desire to own a canine that will help you to get better results as you hunt. Both elements should factor into which breed you choose…
How Big Is Too Big?
Size should be a vital consideration. Some dogs of this type may weigh between sixty and one hundred pounds! Very large dogs are a responsibility and an expense – after all, they eat more, they use up more space and they typically require special care.
If you don't want a very large duck hunting dog, consider eschewing the Labrador, the Chessie and the Golden Retriever. Instead, look around at breeds which don't have the same size and scale – examples include American Water Spaniel and Nova Scotia Toller canines. In addition, German Short-haired Pointers are not very big and they may also be very useful "hunting buddies" out in the marshes…
If you do have space to keep your hunting pooch out of doors, you may prefer to go for a bigger breed. However, you should anticipate having to construct (or buy) a kennel and you'll also need to give your larger dog plenty of exercise in your yard (or at a park close to your home).
Dogs which are utilized for sporting activities, such as waterfowl hunting, always require more physical exertion than is average in order to be healthy and happy animals. As a caring pet owner, you'll need to make certain that your schedule is flexible enough to allow for exercise, as well as training time.
So, you will have to be very honest with yourself as you ask yourself, "Am I ready to be a responsible dog owner?"
Can You Handle Shedding?
Now, let's talk about the coats of prospective duck hunting dogs. Some canines are long-haired, whereas others have shorter coats. Long-haired dogs shed a lot – some people don't mind the dog hair and cleaning it up on a daily basis, while others find it too much to handle. For example Golden Retrievers shed a lot, although they are wonderful pets in almost every other respect.  In contrast, a Chessie canine will shed just a couple of times per annum.
Are You a Seasoned Dog Owner?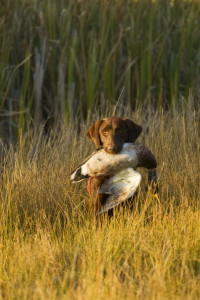 Your experience level with dogs should also factor in. This means that some breeds aren't ideal choices for first-time dog owners. If your duck hunting dog will be your first canine companion, you'll probably do better with a Lab, versus a Chessie. Labs are excellent "all-around" dogs and they don't require the same level of training as Chessies do.
According to real-life hunters who have commented on this topic at the official Field and Stream website, other types of dogs are also great choices and these are Brittany, Boykin and English Setter breeds. These hunting dog owners also feel that rapport with a specific animal is often just as important as breed.
So, if you can, do spend time with a dog before you adopt or buy it. See how the two of you get along before you make a final decision! If you successfully establish rapport and also feel an emotional attachment to a duck hunting dog, choose that canine and then invest in proper training…or learn how to train your duck hunting dog all by yourself!
In terms of training, the folks at Ducks Unlimited suggest conditioning a young dog for duck hunting conditions before taking the pooch out into the field.
This means getting your dog used to duck blinds ahead of time and teaching your loyal canine to ignore duck decoys and other common hunting props. Those who are using boats for hunting may also want to train their dogs to enter and exit vessels before an initial hunting outing.
Basic dog training will likely be available in your community and this is well worth investing in, provided it's offered by an instructor with the right credentials and attitude. Reading up on how to train a specific breed will also help you to train that breed of duck hunting dog effectively.