Duck Hunting in Missouri Articles, Duck Hunting Recipes & Duck Hunting Tips & Tricks
We are delighted to share with you informative "news" style articles about the latest not only in Missouri duck hunting, but all news related to our wonderful sport of duck hunting. We will also publish tips for all levels of hunters as well as product reviews on the latest gear and even recipes for those of you that think you are the next Bobby Flay. In other words, we hope to have something for everyone that browses through our website.
When the Missouri duck hunting season starts, we will be posting videos and pictures on our social media pages so you can see the action we see here in Missouri. If you are a regular follower, we know it will only be a matter of time before you are standing ankle-deep in the mud right next to us waiting for the morning or afternoon duck flight. Enjoy the site and good luck bagging your limit!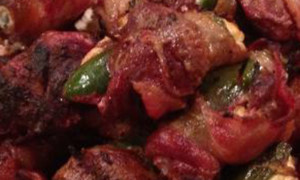 Here is a favorite appetizer of everyone's at duck camp after a good days  guided duck hunt relaxing having a beer and gearing up for the next day's hunt. Everyone gets to sit around boasting about how they shot all the birds and the guy next to them missed everything.  I really can't remember who showed me how to make these but I sure am happy they did!
To get everything started breast and clean you duck rinsing the meat until all feathers, shot and blood have been removed.  Chilling the duck breast before slicing with make it much easier on you to get an even consistent thin slice of duck meat which will ensure that you get even cooking of the popper.  After slicing the duck breast thinly you will need to preheat the oven to 350 degrees.
Combine all of the ingredients and the cream cheese in a small bowl and mix gingerly.  Cut your peppers in half and spoon the mix in to each of the half peppers, until level. Take your thinly sliced duck breast and wrap your pepper & mix with the duck and then followed by wrapping again with a slice of bacon . place two poppers on one skewers.  Place all of the skewered poppers on a non-stick baking sheet and back for 40 to 45 minutes or until the bacon is done.  Once done remove from oven , slice and enjoy.
Here is your list Ingredients needed:
8 ounces cream cheese, softened
 2 teaspoons onion powder
2 teaspoons garlic powder
1/2 teaspoon black pepper
1 teaspoon dried rosemary, crushed
1/2 teaspoon paprika
1 teaspoon Old Bay
Pinch of Salt
8 Jalapenos, halved & seeded
2 pounds duck breast, sliced thin
16 slices bacon
8 skewers (2 poppers each)
I hope you enjoy the Duck Popper Recipe as much and myself and the other at duck camp.