Duck Hunting in Missouri Articles, Duck Hunting Recipes & Duck Hunting Tips & Tricks
We are delighted to share with you informative "news" style articles about the latest not only in Missouri duck hunting, but all news related to our wonderful sport of duck hunting. We will also publish tips for all levels of hunters as well as product reviews on the latest gear and even recipes for those of you that think you are the next Bobby Flay. In other words, we hope to have something for everyone that browses through our website.
When the Missouri duck hunting season starts, we will be posting videos and pictures on our social media pages so you can see the action we see here in Missouri. If you are a regular follower, we know it will only be a matter of time before you are standing ankle-deep in the mud right next to us waiting for the morning or afternoon duck flight. Enjoy the site and good luck bagging your limit!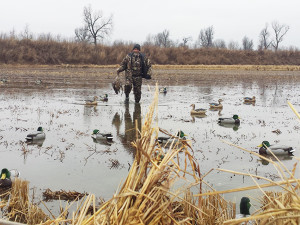 One of the first questions people ask when they choose Show Me Snow Geese as their outfitter is "what items do I need to bring along?" We take care of most of the necessary field items needed for the hunt, but there are some items that you'll need to bring along.
Firearm-Related Items
You'll need to bring a gun, ammo and a shell box to make your hunt a success. What type of gun and how much ammo do you need? We recommend the following:
Shotgun: Bring at least one shotgun on your trip. Make sure it's cleaned and in working order before the hunt. A 10- or better yet a 12-guage will be perfect for hunting ducks.
 Ammo: For each day of hunting, we recommend 50 to 75 steel or other non-toxic shotgun shells. Ideally, bring along 2 to 3 boxes of 25 shells or more. If you want to bring a fourth box for good measure, that's also fine.
 Ammo Type: Sizes 2 – BB and 3 or 3 1/2 inch ammo is perfect.
Most hunters will want to have an improved cylinder or modified choke. This will be a great option for inexperienced hunters.
Shell or blind bags are also recommended. This will make life easier when you're out on the hunt.
Clothing Items
As a duck hunting outfitter, we don't provide you with clothing – you must bring your own. There are a lot of items that must be brought along to make sure your time with Show Me Snow Geese is a blast.
 Camo Clothing: Camouflage clothing and insulated gear is recommended to keep you warm and camouflaged.  Due to the chance of rain, we also recommend hooded rain jacket that can be packed in to your blind bag that will help you stay dry if it happens to rain.
Camo Hat: Often neglected, insulated hats that are water-resistant are recommended.
Facemask: Facemasks or face paint are great on any hunt and will allow the ducks to get closer to you before being detected.
Gloves: A pair or two of thin gloves that are water-resistant will keep your hands warm and allow you to take a quick shot to bag a few birds.
Socks: I can't stress this enough: a couple of pair of warm, thermal socks that keep your feet warm is a necessity. Cotton socks are not ideal.
 Boots: A rugged pair of 18 inch insulated rubber boots should be on at all times if field hunting. Waders that are insulated are preferred, and hip boots are a bare minimum if you happen to be hunting in a water setting.
These are the bare necessities are far as clothing is concerned. A good camouflaged hooded rain jacket isn't mandatory but is highly recommended – you never know what the weather will be like.
Other Items of Importance
There are some items that we recommend you bring along, but they are not a necessity. Remember, we encourage you to bring along a camera but not to be used while hunting as the flash can blow your cover but you can take photos after the hunt, but the following items are more than welcome:
 Flashlights: Pits can get dark, so a mini-flashlight will come in handy.
 Ear Plugs: Hunting in a group can get loud and fast. Ear plugs make the experience a little more pleasant.
 Gun Sling: When your fists are full carrying game back after a hunt, you'll be upset if you don't have a gun sling. Game straps are also recommended and provide added holding capacity for your ducks for the walk out.
Sunglasses: Trying to shoot ducks means you'll have a lot of sun in your eyes. Polarized sunglasses will block out the sun's rays and help lessen water reflection.  Mirrored sun glasses will always give away your position making harder if not impossible to decoy the birds in to shooting range.
 Duck Calls: Your guide will have a duck call, but bringing along an extra never hurts. During the slow time the guide maybe able to give you some calling tip's or help you improve your calling skills.
You'll also want to bring along any identification as well as licenses required for your hunt. If you're unsure of the licensing requirements, please visit the Missouri Department of Conservation website for more information or contact your outfitter they will know what permits you will require.
If you have a trained retriever, you can inquire with your duck hunting outfitter to find out if they're allowed on a hunt. Show Me Snow Geese allows one retriever with a full hunting party.