Duck Hunting in Missouri Articles, Duck Hunting Recipes & Duck Hunting Tips & Tricks
We are delighted to share with you informative "news" style articles about the latest not only in Missouri duck hunting, but all news related to our wonderful sport of duck hunting. We will also publish tips for all levels of hunters as well as product reviews on the latest gear and even recipes for those of you that think you are the next Bobby Flay. In other words, we hope to have something for everyone that browses through our website.
When the Missouri duck hunting season starts, we will be posting videos and pictures on our social media pages so you can see the action we see here in Missouri. If you are a regular follower, we know it will only be a matter of time before you are standing ankle-deep in the mud right next to us waiting for the morning or afternoon duck flight. Enjoy the site and good luck bagging your limit!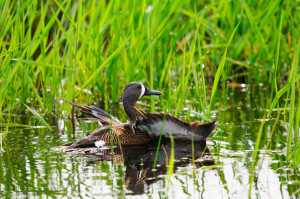 If you are already getting antsy about the upcoming season, you really should consider hunting Missouri's early teal season. You may not find the trophy ducks you do later in the year, but teal hunting has its own rewards. Missouri duck hunting at this time of the year does require some different strategies, though, so we have put together some quick tips to get you started if you decide to join us in September for some teal hunting.
When to Head Out
For those of you that dread that 3:30am wakeup call during the regular season, you get to sleep in during teal season. Typical waterfowl will do their early morning fly about 30 minutes prior to sunrise. Teal will let you snag an extra half hour of sleep because their flyover usually starts right around sunrise. It may not seem like much, but sometimes that extra 30 minutes can make all the difference.
As far as the actual season is concerned, pay attention to the weather patterns. If there is an early cold front in September, the blue-winged teal may just decide to take off and migrate. This means an even earlier season for hunters. Green-winged teal will still hang around through the first signs of winter arriving, so they will generally not start migrating until late October or early November. You will probably see these birds throughout the regular hunting season as well, as they seem undeterred by the colder weather.
Missouri Duck Hunting Strategies for Teal Season
Your equipment will basically remain the same. However, some hunters will customize some of their decoys specifically for teal hunting. Hen mallards work quite well during the teal season, but teal decoys are even better. Take a very simplistic approach to your spread set up, as a dozen or so is often more than enough to draw the attention of the birds.
Blue-winged teal tend to gather in the smaller wetlands. Green-winged teal feed on the smaller lands, but are also comfortable on larger bodies of water. Regardless of the breed, though, shallow wetlands will be the preferred gathering areas. This makes seasonal wetlands very attractive to both the birds and the hunters trying to bag them. If you know of areas that have gathering water during this time of the year, you may want to scout it to see if the ducks have found these spots.
Calling techniques are a bit different for teal than other waterfowl. These birds are very much attracted to their own specific sound, which is very high pitched. Use a quick burst of four or five "peeps" with your teal whistle to grab their attention. Once you have it, you will need to back off and do a much softer and slower paced call. When they are headed your way, a mallard call can bring them into shooting range.
In all honesty, teal hunting is a huge rush and a lot of fun. When these birds get close, it is like nothing you have heard or seen before. Because the birds are smaller, they present a unique challenge to your marksmanship and provide a great tune up for the rest of the season. Try it once and you will surely skip a few NFL Sundays to get out here and hunt some teal!