Duck Hunting in Missouri Articles, Duck Hunting Recipes & Duck Hunting Tips & Tricks
We are delighted to share with you informative "news" style articles about the latest not only in Missouri duck hunting, but all news related to our wonderful sport of duck hunting. We will also publish tips for all levels of hunters as well as product reviews on the latest gear and even recipes for those of you that think you are the next Bobby Flay. In other words, we hope to have something for everyone that browses through our website.
When the Missouri duck hunting season starts, we will be posting videos and pictures on our social media pages so you can see the action we see here in Missouri. If you are a regular follower, we know it will only be a matter of time before you are standing ankle-deep in the mud right next to us waiting for the morning or afternoon duck flight. Enjoy the site and good luck bagging your limit!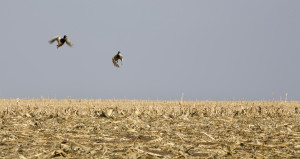 Duck season will be here before you know it, and maybe it is time to try something a little different this year. When people first think of Missouri duck hunting, they often think of staking out their favorite spot along the flyway or in the coveted Golden Triangle, often in a boat or up to their ankles in muddy rice fields. Well, why not the local corn fields and try your luck there?
Dry corn fields present a bigger challenge to waterfowl hunters because they are open, meaning you have less opportunities to truly conceal your presence. Ducks that feed in these types of fields are usually larger flocks, which means there are a lot more eyes scanning the field for possible danger. It is not uncommon for the birds to circle the area several times before swooping down to feed.
Now, while open field hunting does have its challenges, it also has its reward. Firstly, a lot of hunters shy away from the open fields because of these challenges, which means there are more birds for those of us that take the chance hunting here. The lack of hunters means the birds are under less pressure when they do hit these areas, so they may tend to feed here more often.
If you have some fields in mind, it is best to scout the areas thoroughly before actually setting up to hunt. Birds tend to feed twice a day, once in the early morning and then again in the afternoon. As long as there is food available and they are not in any danger, they will probably come back again the next day and the next, until the food supply has been diminished.
Once you have your location decided, you can set up your layout blind dig it in and camouflage it. Remember, this is the most critical prep, as you will have far less cover than you would have in the wetlands and marsh. The blind must become part of the natural terrain so the observing waterfowl cannot see it when they scan the area.
Ask a dozen different hunters how they work their decoys under these conditions and you will probably get a dozen different answers. What we have seen in recent years, though, is ducks becoming more aware of large spreads as dangerous areas. You can use this to your advantage, though, by setting up a larger spread to get their attention and then set up a smaller spread further down to lure them into  shooting range.
Something else to consider when hunting from a layout blind is the fact that you may not be used to shooting from these positions. This is something that you can practice during the offseason to ensure you are comfortable with the shooting motion when rising from a prone position. A few sessions with the clay targets should have you ready for Missouri duck hunting in corn fields.