Duck Hunting in Missouri Articles, Duck Hunting Recipes & Duck Hunting Tips & Tricks
We are delighted to share with you informative "news" style articles about the latest not only in Missouri duck hunting, but all news related to our wonderful sport of duck hunting. We will also publish tips for all levels of hunters as well as product reviews on the latest gear and even recipes for those of you that think you are the next Bobby Flay. In other words, we hope to have something for everyone that browses through our website.
When the Missouri duck hunting season starts, we will be posting videos and pictures on our social media pages so you can see the action we see here in Missouri. If you are a regular follower, we know it will only be a matter of time before you are standing ankle-deep in the mud right next to us waiting for the morning or afternoon duck flight. Enjoy the site and good luck bagging your limit!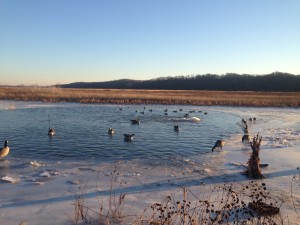 Duck hunting in Missouri during extremely cold weather may be a bit "uncomfortable" for some hunters. But, for those that are willing to prepare themselves with a little planning ahead, it also offers rare opportunities for great rewards. The greatest advantage that late season Missouri duck hunting offers is that there's much less competition to bag the hearty ducks that come down later. Many other hunters will have already moved on, leaving a potential bounty of late migrating Mallards to be harvested.
However, unlike DUCK HUNTING during warmer climate, when temperatures drop from the high 40s to the highs in the 20s and below a change in tactics is called for in order to reap the rewards.
Plan for your dog
Just as the cold can get to even veteran hunters, so too can it pose serious risks for hunting dogs. And as dog owners, it behoves us to look out for the health and safety of our four-legged friends during every cold weather duck hunting expedition.   The most common peril that dogs face comes from frozen water.  Unexpected thin sheets of ice can easily mean the dog can fall through into freezing waters and possibly get cut or even worse.  It is also a good idea to carry a first aid kit for not only your hunting dog but also for people while hunting.
Since each duck hunting trip might expose your retriever for hours to the elements, you should plan on fitting your dog with appropriate cold weather gear, including camouflaged protective dog vests. This will help protect the animal from frozen, ice coated bushes and sharp shards of ice. While hunters should make sure their dogs aren't unnecessarily being exposed to thin ice, a floating vest can help the dog stay afloat in the event of an accident.
Exposing the water
Late season duck hunting is all about enticing migrating ducks to decoy into ideal spaces that are few and far between. And when ducks see water amongst an otherwise frozen landscape, they commit quickly! The challenge however is, initially to open up a section of the frozen water body and expose the water below, and then to ensure that the water doesn't freeze over quickly before the ducks can find it. One of the best tools to help keep the water opened up is the use of de-icers , there are many different models such as the Mallard view ice eater and work extremely well in cold weather.
Duck hunting veterans will usually pick a spot they want to set their blinds in where birds have been seen while scouting, and then will break the ice in a circle then slowly walking will move the ice in large sheets under ice that will be left in place, thereby creating a ice free pond-like environment that will attract the birds to land. Go prepared with appropriate gear: Insulated Waders are a must to help keep you dry and warm as you work in the water. Sledge hammers and axes to help break up the large thick slabs of ice. Extra pairs of gloves and waterproof PCV decoy gloves to handle and move the ice.
Reaping the rewards
Going prepared for late season cold weather duck hunting can be amply rewarding for those that go fully prepared. But as a hunter, you don't only owe preparedness for yourself and your fellow hunting party members, but also to your waterfowl hunting dog.  look here for more information pertaining to cold weather duck hunting.