Duck Hunting in Missouri Articles, Duck Hunting Recipes & Duck Hunting Tips & Tricks
We are delighted to share with you informative "news" style articles about the latest not only in Missouri duck hunting, but all news related to our wonderful sport of duck hunting. We will also publish tips for all levels of hunters as well as product reviews on the latest gear and even recipes for those of you that think you are the next Bobby Flay. In other words, we hope to have something for everyone that browses through our website.
When the Missouri duck hunting season starts, we will be posting videos and pictures on our social media pages so you can see the action we see here in Missouri. If you are a regular follower, we know it will only be a matter of time before you are standing ankle-deep in the mud right next to us waiting for the morning or afternoon duck flight. Enjoy the site and good luck bagging your limit!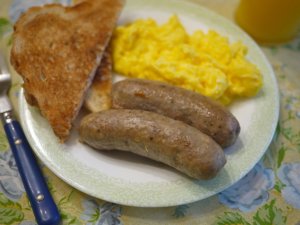 Well, you're having a fantastic duck hunting season and looking for a little different way to cook some of the duck you have harvested. So make some breakfast sausage and have a hearty duck sausage and eggs to start the day off.
4 lbs Duck partially frozen
1-1.5 lb pork , very well chilled
2 teaspoons ground mace
2 teaspoons rubbed sage
1 tablespoon plus 1 teaspoon kosher salt
3 cloves chopped fresh garlic (or 2 teaspoons granulated)
1 cup ice water
If you like the taste of maple flavored sausage add ¼ cup of pure maple syrup
Natural sheep casings ( for making sausage links )
1. Trim the duck of all sinew and tough connective tissue, cut it into cubes of around an inch (make sure the duck is still partially frozen as it makes it easier to grind), and grind it through the medium plate of your meat grinder along with the very cold pork.
2. Combine the spices in a small container and mix with the 1 cup of ice water.
3. Pour the spice and water combination (as well as the syrup if you are using it) into the ground meat and fat and mix thoroughly for at least 2 minutes. Use your hands for mixing to ensure even distribution.
4. Once the sausage is fully mixed, run the mixture through the grinder once more and either stuff it into casings or make it into patties or bulk packages.
Make sure you cool this sausage as soon as it is done. It can be kept in the refrigerator for 2-3 days or in the freezer for up to three months. That's where a vacuum sealer really comes in handy, not only can you store your sausage for longer periods of time but it also really speeds up the whole process. By partially freezing the meat prior to grinding the meat you will get a much better grind and better link stuffing, allowing for a much faster process from start to finish by either hand or electric grinder. I think you'll enjoy this duck sausage recipe almost as much as when you were out actually hunting the ducks that you used to make the sausage