Duck Hunting in Missouri Articles, Duck Hunting Recipes & Duck Hunting Tips & Tricks
We are delighted to share with you informative "news" style articles about the latest not only in Missouri duck hunting, but all news related to our wonderful sport of duck hunting. We will also publish tips for all levels of hunters as well as product reviews on the latest gear and even recipes for those of you that think you are the next Bobby Flay. In other words, we hope to have something for everyone that browses through our website.
When the Missouri duck hunting season starts, we will be posting videos and pictures on our social media pages so you can see the action we see here in Missouri. If you are a regular follower, we know it will only be a matter of time before you are standing ankle-deep in the mud right next to us waiting for the morning or afternoon duck flight. Enjoy the site and good luck bagging your limit!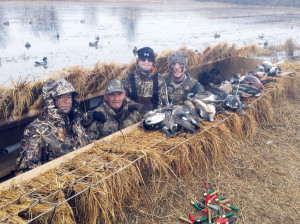 If you're a duck hunting enthusiast, then it's likely that beautiful Missouri is somewhere on your bucket list of desirable locations to visit and with good reason. Missouri is home to a variety of challenging habitats that cover both land and water hunting terrain options. It also features rice fields, corn fields, flooded bean fields, and many more types of terrain capable of delivering a hunting experience that you and your hunting partners are sure to remember for years to come. You'll have access to a wide selection of waterfowl as well.
However, it's one thing to know that this year is the year that you'll be making Missouri your duck or goose hunting location of choice. It's another to actually navigate the area's multiple obstacles and challenges successfully to ensure the most rewarding possible experience. Let's take a closer look at why you should make this year's trip a Missouri guided duck hunting trip instead of simply going it alone.
Benefit from Years of Experience
If you could add absolutely anyone to your hunting party today, who would you choose? If you're like most serious waterfowl hunters, you'd probably pick someone that really knows the area where you'll be spending your time. You'll want someone that knows where to set up shop for the best possible experiences and that can accurately help you locate the exact type of birds you're looking for at that moment.
Choose the right Missouri guided duck hunting trip experience and you'll have exactly that and then some. Missouri's best hunting guides don't just possess detailed insider understanding of every waterfowl species in the area. They know the terrain intimately in a way that a non-native won't and they will know exactly where to guide your party no matter what circumstances arise. You'll never have to waste time or energy worrying about getting lost or playing guessing games with the birds you're looking to hunt. You're free to simply have the experience of a lifetime while learning from a seasoned expert.
Choose from a Variety of Experiences
Missouri guided duck hunting trip options are far from one size fits all. Plan your trip around the season, as well as the type of waterfowl you're seeking.
Snow goose hunts are a popular pick for those planning  goose hunting trips starting in early February when snow goose season starts. However, as this is an incredibly popular choice, it's advisable to book your hunt a couple of months in advance if possible. Hunters flock to the area during this particular season in droves, as they're practically guaranteed a successful hunt due to the sheer numbers of birds in the area at the time.
For seasoned hunters seeking more variety, there is the combination duck and specklebelly goose hunting. Score that much sought after White-fronted goose or let experienced hunting guides show you the ropes of hunting in Missouri's famed rice fields. Late season goose hunts, exclusive duck hunting club options, and more provide serious hunters with additional ways to land that trophy of a lifetime.
Enjoy an Experience Compatible with Your Budget and Needs
Choosing to explore waterfowl hunting possibilities via a Missouri guided duck hunting trip is more than just a way to maximize your chances of bagging just the right bird. It's a great way to have the best possible experience without going over budget as well. Today's best Missouri guided duck hunting professionals specialize in working with their valued clientele to ensure that they deliver the best possible hunting adventure given the available funds. Contact a rep and ask for personalized recommendations today!